Tour de Disaster
2013 July 27
Victoria, BC
Rider 033's collection of after-action stuff
Packing manifest
Just for fun, here is the complete list of items I had with me (all fit into two backpacks):

8L of ice
5L of water
rain jacket
visibility vest
tampons & pads
batteries (AA/AAA)
cat leash
cat food
egg carrier
clean socks & underwear
rubbing alcohol
sewing kit
toothbrush
toothpaste
dental floss
sunscreen
condoms, lube
cloth bags
space blanket

medications (for direct use, or sale on black market):
tylenol 3
generic beta blockers
diazepam
anti-nausea tablets
nicotine gum

2 hand-powered flashlights
bike tire repair kit
12v power inverter (charge/run phone, tablet, netbook off car batteries)
generic visa cheques (offline transactions for anyone with a visa card)
barf bags
multimeter
lighters
matches
towel
can opener
compass
pens
paper pad
earplugs
toilet paper
vinyl gloves
reflective tape
automotive sealant/adhesive
multi screwdriver
duct tape
electrical tape
tape measure
scissors
needle nose pliers
zap straps
clip things (like for climbing but weaker)
adjustable wrench
vice grip pliers
exacto knife
generic car keys (starts some chrysler, ford, toyotas made before 1995ish)
bike tire removal tool
netbook with spare battery
network cable
tablet (loaded with offline maps of Victoria)
kindle (charge lasts a week+ under heavy use; good for medical or reference manuals)
USB charger
AA/AAA battery charger
phone with fm radio antenna

Photo: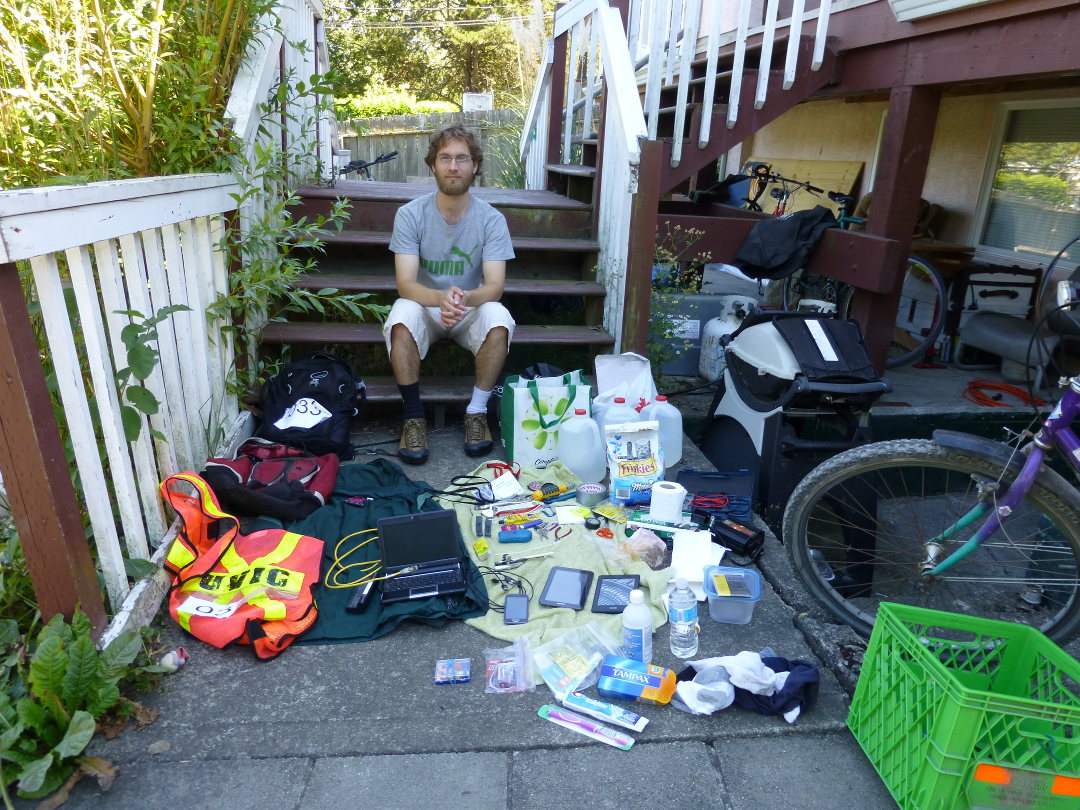 Damage assessment video, notes, and photos
Here are my videos and photos from the simulated damage assessments. I took these with my phone, which of course doesn't require any infrastructure to use the camera.
In a real disaster, I would show these directly on the phone (or tablet, which has a larger screen and was also with me) at base camp. The embedded GPS tags could be used to plot the photos/video onto a map.
See below for photos.
Battery life: The phone and tablet have, between them, enough battery life to do a full day of this kind of "navigate to a place, survey, return to base and play back" work. The phone only needs about 4.5 watts to charge, and the tablet about 8 watts, easily achievable with solar or hand crank.
Neighbourhood (Olympia)

(Click the [] button in the lower right for bigger/fullscreen and the cogged wheel thingie for better quality.)
Transcript of recorded notes:

roof types of all buildings in set: tar tiles
purpose for all buildings in set: residential; some have businesses in basements

ignore yellowish house at beginning (Battery St. address)

1st in video (black car in front)
address 35
mainly wooden construction; stone/concrete stepway out front
2.5 floors, basement uncertain

2nd in video (red door)
address 27
for sale sign out front bills it as a 6-plex
construction: primary wood, with large stone frontage
2 complete stories visible above ground, probably a basement

3rd in video
address 21
also made of wood
floors: 2.5 visible above ground, probably no basement

4th in video
address 15
made of wood
floors: 2.5 above ground, probably a basement

ignore apartment building

Fire Hydrant

No obvious signs of malfunction; however, a pink sock is attached to one of the bolts.

Small amount of water leaking around very base of hydrant on eastern side.

No puddle, ground appears dry around it; so not a serious leak.

Colour: red.
Hydrant number: 0007.

Condition of bolt under the sock: apparently normal & undamaged.

Higher resolution still photos
Experiments with device-to-device wifi
Not directly relevant to today, but...
Nearly all smartphones and tablets now come with "WiFi Direct", which allows them to communicate without any infrastructure. During a disaster, this could be a useful way to exchange large numbers of photos -- people could be taking photos of people they meet and bodies they find, and using the GPS tag feature of most phones, the exact location of the photo would be recorded. When you run into someone else with a smartphone, exchange batches of photos. Soon, anyone with a smartphone becomes a walking "have you seen this person?" databank.
I've gotten connections between a phone and a tablet at about 120 metres. This is far enough to transmit across the Gorge at the following places:
The Selkirk end of Banfield Park
The Bay Street bridge
The Johnson Street bridge
Laurel Point Park
...which could be useful if the bridges are out.